Breakdowns in Brooklyn, momentum at Metlife,  and school is in session
1. Down goes Seidenberg, down go the hopes
A few weeks ago, I was saying "is it hockey season yet? I need the Islanders to distract from this nightmare NYG season."
Oh, how I laugh at my month or two younger self now.
The start of the season has not been kind to anyone associated with the Islanders. Not the players on the ice, not the guys coaching behind the bench, not the fans in the stands and surely not the new owners, who thought they were investing in a team on the rise.
Instead, it seems their new team is a mess in success' clothing flailing on the ice and falling in the standings.
They also can't seem to stay healthy. If there's been any promise in this disappointing start, it's been the offensive contributions of their nominal defensemen. But in quick order, Ryan Pulock, Travis Hamonic, and Dennis Seidenberg find themselves out for an extended period.
So what happens to all those different groups we talked about before? The fans have been howling for heads, and you've got to believe those new owners may be feeling the pressure to do make a change soon.
Could it be Garth Snow, the GM, who has put stock in the likes of Ryan Strome and Andrew Ladd while letting proven commodities like Kyle Okposo, and more worryingly, Frans Nielsen, walk out the door? Or maybe it's Capuano, the coach that has failed to develop young players like Strome after a promising rookie season.
Much to many fans' chagrin (or at least those I've heard on Twitter and Reddit), it may not be either, at least right now. Despite the pathetic play as of late, that rash of injuries may grant Snow and Capuano a reprieve.
Speaking of blueliners…
2. Could Trouba's situation spell trouble for the NHL?.
Last week, Winnipeg Jets defensemen finally ended his holdout that's stretched into the season by signing a two-year deal with the Jets worth $6 million.
To say that the young righthander lost that staring contest would be putting it lightly.
To review, Trouba wanted a bigger role on the Jets, and he didn't get it. Then he wanted to play for a team that would give him that bigger role, and the Jets wouldn't trade him. Now he's signing a deal that will relegate him to an obviously undesirable situation during two of the best and most valuable years of his career and leave him as a Restricted Free Agent when it's over. When it comes to contracts, it's tough to get beat much worse than that.
But it's tough to blame Trouba or his representatives. The current structure of the NHL collective bargaining agreement gives young players almost no power in their career decisions, despite the fact that we see more and more just how big of an impact these young players can have.
But whether you think that's fair or unfair, it could be about to change. As more young players like McDavid and Matthews become considered among the year's best, they are going to want to control where they play the most significant years of hockey they have in their bodies.
I hope to the Hockey Gods that I'm wrong, but this is exactly why I think Bettman's boys could be headed for another lockout soon.
As if the Islanders' start to the season wasn't bad enough, the Rangers just cannot stop scoring, or for that matter, winning. And to make matters worse, Henrik doesn't look like he's reached the peak of his powers yet. It's enough to make an Islanders fan throw up their fish sticks.
If there's any consolation, there are some signs the Rangers could come back to earth sometime soon. I'll do my best Statt Tardiff impression and point out that the team is second in the league with a 105 PDO and they are scoring at an insane rate, with a league-leading shooting percentage of 14 percent.
Some of their more advanced stats that you expect to show how they will play out over the course of a full 82-game season, however, don't paint the same rosy picture. They stand at a good but not great 10th in the NHL when it comes to Corsi percentage, and sixth in Fenwick (all stats courtesy of Hockey-Reference.com)
But numbers aside, there are reasons to believe the Rangers could be better than expected. They went for cheap deals on fast veterans like Michael Grabner, aggressively coveted college star Jimmy Vesey, and still have one of the league's best netminders, one who is desperately hungry for his first Stanely Cup win.
I hate to admit it, but I'm a little bit afraid of the Rangers this year.
With dozens of campuses still reeling from the effects of Midnight Madness, college basketball is finally here.
Now, it's always a bittersweet arrival of this scholastic sport to me. I often enjoy it even more than the NBA, but there is no denying that the schedule drains some of the excitement from the start of the year, with all the meaningless tune-up games, preseason tournaments and other contests that stand in the way before the conference schedule and meat of the season begins.
But still, I'm glad that it's here. The St. John's Red Storm have the best team that Coach Chris Mullin has had during his tenure, and there are plenty of fun teams to keep an eye on this year, from the title defense of Villanova to another ride with the uber-hateable Grayson Allen and the rest of the Duke Blue Devils and plenty of Cinderellas hoping to dance come March.
But let's keep in mind during the early goings that college basketball doesn't truly start until after the BCS Championship has been awarded.
5. Walton, the Warriors, and the West's continued dominance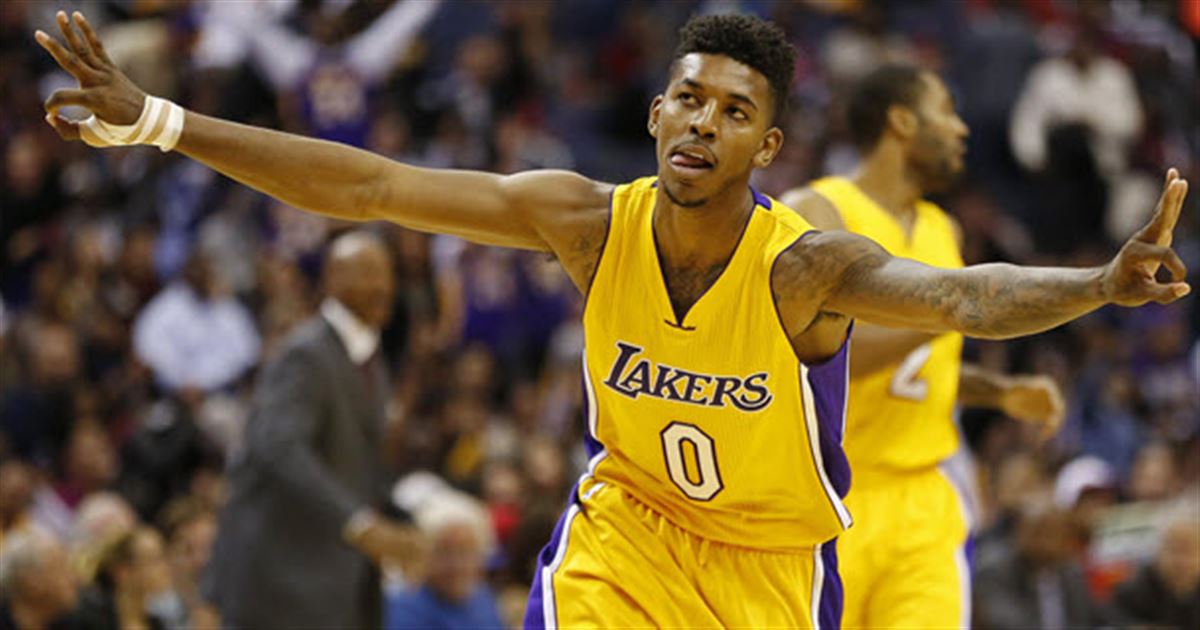 As others have pointed out, former Lakers great and living meme Nick Young is having a rebirth under his new coach Luke Walton. Perhaps its a good performance during a small sample size, but Young has flourished this season, upping his shooting percentage to 48 percent, six points above his career mark of 42 percent.
He's also upping his output, averaging nearly 15 points a game without missing a free throw all year.
Young is undeniably a head case, but this season is still an excellent example of how a change in mindset can benefit a young player, even if they do have a few screws loose. Young had a tough season last year, languishing behind the Kobe Bryant farewell tour and under the "tutelage" of Bryon Scott, who apparently thinks he's still coaching in the year 1980. Add in his litany of (self-inflicted) off the court issues, and Young was undoubtedly thrilled to have a new season to work with here in 2016.
If Young can find some modicum of consistency under Walton, watch out. This Lakers team has some of the raw talent to rival what's going on in Minnesota with the patron saint of ChinMusicPod Kris Dunn and Karl-Anthony Towns, and if young can be a somewhat consistent point option, that Lake Show should be that much better during this rebuilding process.
We've been reading all about the Western Conference's dominance for years, and how its due to come to an end as more talent, on and off the court, heads to the East and the balance of power settles once again.
But between the aforementioned Lakers and Timberwolves, the "supervillain" Golden State Warriors and the San Antonio Spurs (the NBA's version of the Patriots) I'd expect to see plenty of banners and Larry O'Brien trophies on display out West.
On Saturday, my home state of New York joined the 21st century as the Ultimate Fighting Championship held its first card in the World's Most Famous Arena.
UFC 205 was as high-profile of a card as the sport can muster at this point in time, and it turned out to deserve all the hype it was given in the leadup. There was no fight and no fighter that got more hype than the headliner featuring Connor McGregor over Eddie Alvarez.
McGregor truly is an ultimate fighter. The due is the whole package. He's remarkably impressive, both physically and mentally. He's ripped, brash, and perhaps the best there ever was when it comes to the Octagon. He can sell a fight, and beat a man down, with his fists or his words, and he's exactly what the sport needs to help give it some mainstream steam.
There was one looming downside to Saturday's grand display for UFC fans, however. While the night was undoubtedly a showcase in the best of what Dana White and Co. have to offer, many of its best and best-known fighters were in the ring on Saturday. It will be a few months before they can put together a card even half as stacked as this one, and much much longer until they can even start to match the hype and energy surrounding UFC 205.
For now, though, I think the sport will be just fine.
7. College football gets crazy
I saw a clip this week of New York sports royalty Mike Francesa predicting that the top of the college football landscape would remain unchanged from now until championship time comes in January.
Maybe Mike would like a redo.
In the past 48 hours alone, Michigan's hopes of even a Big 10 Title may have been dashed; the Washington Huskies were caged for their first loss, Clemson has been declawed, and Ohio State now finds itself standing in the National #2 spot behind the mighty Alabama Crimson Tide.
Alabama, of course, had no problem this week, rolling over Mississippi State 51-3, and they remain the #1 team in the nation, both in the standings and in the minds of most college football fans.
Maybe the fact that Saban claimed not even to be aware of last week's election is helping their case. Stay football focused.
Drew Brees may be the most impressive QB in the NFL.
That's not to say he's the best (that's probably Brady) or the guy with the best raw talent (I'd say Luck or Rodgers), but I think he's the most impressive.
Brees is 37, much closer to the end of his career than the beginning, but he's still a treat to watch. He may show signs of decay, as he did during a particularly rough start against the vaunted Denver Bronco defense, but he responded well and showed just how brilliant he can still be with a game-winning hail mary pass during the two-minute drill against perhaps the best defense it football.
He's also still one of the more entertaining gunslingers in the NFL, and he and Sean Payton remain unafraid to let him try one downfield, with the results to encourage more attempts.
What's more, he's also one of the most intelligent and articulate players in the league.
During an interview with CBS' Phil Simms during the pregame coverage this week, Brees spoke on everything from his own career, admitting he's reaching the sunset but expressing plenty of energy and desire to continue, to the NFL's fearless leader, expressing controlled, informed but still severe criticism against Roger Goodell. He didn't call the commissioner a tyrant; he didn't seek to relitigate his own team's bounty gate case. But he spoke his mind intelligently and represented himself, his team and his league well as a conscientious objector.
I don't think the Saints are a particularly good football team this year. But I'd still take Drew Brees as my captain just about any day of the week.
9. Building something big? Or A Giant meltdown looming?
Could there be some momentum building at MetLife? The Giants are coming off a big divisional win over the Eagles last week, and also won their last pair games before the bye week, with a chance to improve to a very respectable 6-3 with a game against he three win Bengals this week.
Despite all the promise of that paragraph, I'm more than a little nervous for this week's game, and based on the feelings of the fanbase on Reddit; I don't think I'm alone. Any primetime game this year's version of Big Blue plays in is worthy of suspicion, as we learned the last time I previewed a Monday night game.
But, add in the fact that they could be due for their mistakes to catch up with them and the chaos that seems always to follow this Cincinnati team, it seems there is no shortage of things that could go wrong in this contest.
A loss here doesn't doom the Giants, but an injury could. We'll have to see if they can escape without suffering either.
My heart says 24-17, Giants, my head says 21-10 Bengals.
Have a good week, everybody. For more, follow @MurraySportTalk on Twitter.