The best tunes for Super Bowl XLI
Author's Note: If you're looking for a Super Bowl preview, we already have you covered.  We're still trying to get music involved in the blog more frequently, so we're resurrecting the Chin Music Playlists feature. In case you don't remember, this is where you'll find the find songs, albums or artists that fit well with different athletes, teams, and events. This won't have any schedule, just when some things come to mind. Each one will include a Spotify playlist with the songs we discuss at the bottom, to soundtrack your life. Next up? The Big Game.
There's something about football and music that just seem linked.
Football stadiums are home to the biggest concerts in America, the billion-dollar Beats empire was founded on the back of Colin Kaepernick and other NFL players, and there is no concert quite the Super Bowl halftime show, good, bad, or otherwise. From the image of an impact player turning up his favorite pregame song to get his mind right to the feeling that rips through a stadium during the introductions
Football and many genres have something in common as well.  It's hard not to hear the violence of hard rock or metal in a big block or hellacious hit or the swagger of rap and rock and roll in so many of the game's greats. Hell, coaches even wear headphones!
So, in honor of that connection, and with two great music cities facing off, here are 15 of the best songs to get you ready for Super Bowl LI.
1. A Classic Battle- Sam Spence
We'll get things started with a neutral song, and a fitting title when it comes to the NFL: Sam Spence's "A Classic Battle."
Spence's name may not be well-known, but many of his compositions are. NFL Films has always had some tremendous scores to accompany the highlights of scores, and much of that is thanks to Sam Spence. This is just one of many titles I could have included, including perhaps the song that was hardest to leave off my list, "Ramblin Man From Gramblin," along with many others that many fans, especially the hardcore or old-time variety, will remember fondly.
This particular song gets the nod for a few reasons. The title obviously seems designed for a high-profile, and high-scoring,  matchup, and the song also has a brilliant grandiose nature to it. There's the association with Chris Berman's highlights, which we'll start to get less of after this year. We'll get in
We'll get into the team-specific songs next, but it felt right to start it off with a song that stood for the sport as a whole. And if you're looking for a song about football, look no further than Sam Spence.
2. Crazy Train – Ozzy Osborne
And with Ozzy's maniacal laugh, the pace picks up quite a bit
That cackle, followed by a furious six-stringed attack from guitar god Randy Rhodes, is enough to get anyone's heart racing and blood pumping. Like the first song on our list, the title helps set the expectations high, and the song delivers, with Mr. Osborne's disturbing journey being vividly imagined, and the music that accompanies it is just as harrowing.
The Patriots use it to perhaps its ideal end before each game in Foxboro, getting those oh-so-lovely New England fans revved up before kick-off. We'll also likely hear it during their introductions and warm-ups before kick-off, so it felt like a good song to start with.
The song comes off the bat eater's seminal Blizzard of Ozz record, and the Patriots may be wishing they could find a way to have a blizzard invade NRG stadium, as the Falcons may be at a bigger advantage than most realize while playing in Houston's dome.
3. More Than A Feeling – Boston
Hmm. A band from Boston, hailing from Boston, during a Super Bowl with a team most closely associated with Boston. Yeah, this seems like a layup.
And, if I had to choose a Boston song, there wasn't much debate about which one to pick. "More Than A Feeling" pretty much has it all, at least when it comes to a good ol' 70's radio rock jam—a slow opening, a big swelling of emotion, a sing-along chorus, a big guitar solo, and finally, a powerful (enough) ending.
I don't think I have to build too much of a case here, so let's move on to the next track.
4. Your Love – The Outfield
Patriot fans, warm up your vocal chords.
If you just type in "Patriots/ Your Love by the Outfield" into google like I did, you'll be greeted by enough videos of the aforementioned Foxboro crowd singing this 1985 jam in unison during good times, and there's little doubt that we'll hear it once again if things go well for the Patriots on the field this weekend.
The tune was Tim Culverhouse's exit song on a recent episode of the Chin Music Podcast, so we'll dust it off once again. And while it may not break any new ground or set records for originality, there's no doubt that it's even for everyone, even the drunkest and coldest football fans in the New England stands, to sing it fairly accurately. When it comes to stadium-wide jams, that's really all you need.
All in all, it's not such a bad tune, even if this playlist is starting to devolve into a bit of an FM radio nightmare. Fortunately, there's a bit more variety coming up in the Atlanta section of the playlist.
5. Train Kept A Rollin – Aerosmith
Can the Patriots keep their dynasty train a-rolling this weekend? (Sorry, I couldn't help myself from the pun.)
I have a not-so-secret and not-so-guilty love for Aerosmith that I have been cultivating for more than a decade now, so there was no chance I wasn't going to take the chance to sneak the Boston-based band onto this playlist. And, this is a great tune.
Like the Patriots, it just seems to get better as it goes, picking up momentum with solo after solo, even if the verses themselves seem to stay more or less the same (sounds like Brady and Belichick.) There are even some production tricks to match the Patriots various nefarious off-the-field antics, with Aerosmith and their team of producers and engineers working to simulate a live audience egging the boys on, and the Patriots are certainly no strangers to taking whatever advantage they can manufacture.
In all seriousness, this is the kind of tune you can expect to hear at a victory parade in Boston next week if it indeed comes to that.  And I'll admit I still love this particular song, with the guitar of Joe Perry and the vocals of Steven Tyler suiting me just fine.
But I'm still not rooting for the Patriots…
6. Vindicated – Dashboard Confessional
Now, this is a bit of a change of pace.
You may not find a tremendous amount of dashboard Confessional fans with Patriots jerseys hanging in their closets, but these two groups are forever intertwined. The New England music team, perhaps the organization as a whole, or maybe even just Brady himself, brought the embattled QB onto the field after the Deflategate debacle to this emo-rock classic.
And now, Brady has a chance to be truly vindicated. He won a court case, only to get it overturned, and for one reason or another, and then finally served a suspension under the absolute rule of Roger Goodell. And even if I told Tim during our podcast preview on Friday that I think he's nuts if Goodell will lose sleep over Brady adding to his trophy collection, there's a much better chance that Brady will take some extra ounce of pride in raising this year's edition of the trophy over his head.
Okay, so we're out of radio-free-repetition mode, at least to a certain extent, and that's good. But we're still firmly in the rock n' roll category so it may be time to get a little creative.
7. Interlude – Jay-Z
From Brady's return after the initial Deflategate drama (and the Super Bowl title that went with it) to his return from the suspension itself. And while my favorite Jay-Z song may have been a fitting and epic backdrop to the Golden Boy's return, I'm not sure Brady needed to reintroduce himself after all.
After all, since he came back, nothing much has changed. The Patriots are still winning. Brady is still finding the end zone with frequency and keeping the ball away from his opponents. Bill Belichick is still on the sidelines, and even if he isn't wearing hoodies quite as frequently, that trademark scowl and ability to find every advantage was still there. And Brady is winning those games in largely the same way he always has—with efficient, quick throws that keep the ball moving, to the tune of the top third-down efficiency in the league.
So sure, Tom, go ahead and reintroduce yourself. But we remember you pretty much just the same.
8. Poker Face – Lady GaGa
Halftime in our playlist, as we take a break between the New England and Atlanta portions of the programming, so we turn to the game's halftime show, starring Lady Gaga, live and in-person.
I've never had too many strong feelings about Lady Gaga, but as I tweeted about this week, I was glad to be (seemingly) right about my prediction that Ms. Gaga would open her set with "Poker Face," at least according to some initial indications on the gambling market. Just call me a soothsayer.
Now, to the Atlanta songs…
9. We Ready – Archie Ebersole
From locker rooms of pretty much any youth athletic team if certain commercials are to be believed, to the field at the Georgia Dome. The
We start it off with this sing-along song by Archie Ebersole, because much like Crazy Train on the Patriots side, it sets us up well for a beginning. Sure, the song, like many other Jock Jams, can be a little repetitive, but that's all part of the fun.
So, in the spirit of Archie himself (is his hypeman Jughead?), we'll use this time to get ready for the rest of the Atlanta part of this playlist, because while I like some old time rock n roll as much as the next guy (though maybe not as much as Bob Seger), we'll need to be ready for the objectively much hotter tracks coming up next…
10. ATLiens – OutKast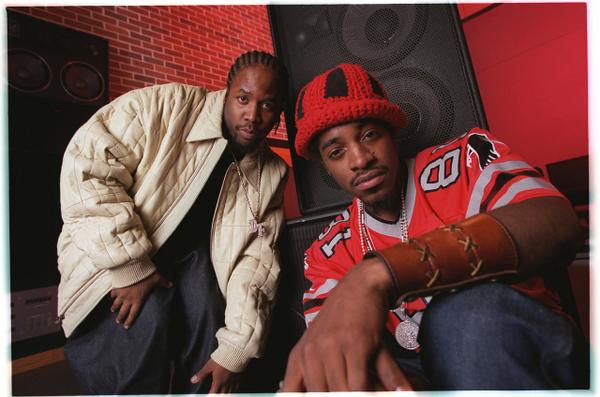 See, this is what I mean.
When I went for a song from the city the Super Bowl teams play for, there was an obvious direction to go with each city. And don't get me wrong, Aerosmith has long been a favorite band of mine, and Boston has their place. But this was exactly the song I had in mind to help carry those other tunes and show them how to have a good time.
There's almost no rap group like OutKast, blending technique and speed in their vocals with catchy and clever lyrics, and quickly becoming an early-aughts hit in middle school dances and college dorms alike. And if you don't like ATLiens, well then I'm not sure what I really have to say to you at this point.
Sorry Boston, but it's becoming increasingly clear that Atlanta's victory party may have the better music selection…
11. Fake Love – Drake
I did not think we'd have much Canadian rap on an American-football inspired playlist, but here we are.
This track gets inclusion as it's almost sure to be played in the Falcons dressing room at least once this weekend, as it was on Vic Beasley's pregame playlist, at least according to Falcons.com
And if there is anyone that Atlanta should want in the right headspace before taking the field at NRG Stadium, it's Beasley. Like we talked about earlier this week,  Beasley will be crucial to the Falcons' efforts on defense, as Atlanta will need to be able to consistently get after Brady if they hope to slow down that powerful Patriot offense.
With that in mind, we'll give Aubrey his first of (spoiler alert!) two appearances on this non-Grey Cup playlist. Who doesn't love an underdog story?
12. Falcons on Top – Sevendust
Well, this is interesting, to say the least. I guess if nothing else, this Falcons-focused song truly cannot be ignored.
From what I could tell, this tribute to the Dirty Birds came along in 2010, and while I'm not quite sure who asked for it, I guess I'm glad they did. Overall the song is fine enough, and it will certainly get the people going.
And, if we're to believe this article from 2010 on ESPN's Page 2, Sevendust may not be just the music industry's biggest Falcon fans, but the team's secret weapon as well.
13. Vini, Vidi, Vici – the Black Lips
Just like we needed the sultry sounds of Jay-Z to help break out of our rock'n'roll rut, we'll turn now to the Black Lips for a little variety in the southern half of this list.
There's a good chance this song won't make it to the airwaves in the Falcons' locker room, even if it is one of my favorites. And I suppose there's a good reason for that, given the band's relative lack of popularity compared to many others on this list, and the songs generally laid-back vibe.
But maybe it should be on the playlist.
The title, once again, is perfect here, with the most cliched quote for conquerors of all time, but still, it fits—particualrly when going up against an Evil Empire.
14. Big Rings – Drake, Future
Our final Atlanta song, and the beginning of the end of our Super Bowl playlist is the start of the celebration. And who better to kick off a hypothetical celebration for Atlanta than hometown boy Future, and with a song entitled "Big Rings" no less (if you can't tell, I'm a sucker for a good title.)
The song is dripping with swag, as any good championship celebration should be, and just sounds like it should be the kind of song played in a room that smells of champagne and cigar smoke, so hopefully it gets played din the locker room of whichever team is hoisting the Lombardi Trophy in the Big Game.
But it would be especially appropriate for the Falcons.
15. We Are The Champions – Queen
And the celebration continues.
Sure, it's a bit cliched, but I prefer to think of it more as a tribute to Freddie Mercury. Sure, he may not have been a big American football fan, but I think the man would be glad to know we still associate his music with success at the highest level, even decades after the band's height of popularity, and after he has passed.
It's been a wild, sometimes long, sometimes somewhat difficult, but always interesting NFL season, and, just a few hours after this blog publishes, we will have a champion, at least until the next season starts up again.
Thanks for listening in. For more, follow @MurraySportTalk on Twitter. Special thanks, to r/Falcons on Reddit for their Falcons-related suggsetions!